Vinyl Siding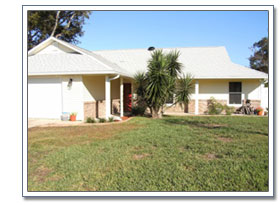 Are you building a new home? Is your house ready for a facelift? Using vinyl siding on your home or shed is a great way to ensure a beautiful, low maintenance exterior.
Available in a great variety of colors, you can easily find that perfect shade of which you've been dreaming.
What are the benefits of vinyl siding?
Low maintenance – no painting required
Scratch resistant – the color is baked into the panels, creating a panel colored clear through
Many choices of color and styles available
Mimic architectural details of wood
Long lasting & durable
Beautify your property by giving your house a facelift
At Rob's K-Bear Aluminum, Inc. we specialize in the installation of vinyl siding. Serving most of Volusia County, we are a customer and service-oriented company. When the job is done, we don't run! We're there by your side to support what we sell. A full-service shop, we can handle your job from the ground up. A project coordinator will be by your side through each step of the way, and Rob himself personally gives the details of your project his personal attention. You know you're getting the best when you contact us today for your free estimate!
---
Serving Volusia County including Daytona Beach, Daytona Beach Shores, Edgewater, Holly Hill, New Smyrna Beach, Oak Hill, Ormond Beach, Ponce Inlet, Port Orange, and South Daytona.
Florida State Certified License Number SCC056687