Garage Sliding Screen Doors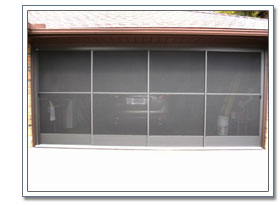 Down with bugs!  Banish the dust!  A garage door screen can be one of the best investments you can make for your home. 
Advantages of installing a screen door on your garage:
Protection from bugs
Privacy
More fresh air circulation
Protection from dust & debris
A barrier against stray critters
Help keeping your own critters in
Extra living space
At Rob's K-Bear Aluminum, Inc., we have installed countless garage door screens on homes and businesses in Volusia County, from Ormond Beach to Oak Hill.  You can trust us to make sure the installation is professional and attractive.  Our quality screens are an affordable way to get more use out of your garage, with durable, rugged screens sliding smoothly across the garage door opening at the touch of a finger.  And in addition to our durable garage screens, we also install window screens and screen rooms. 
We take pride in working with you every step of the way and making sure you are completely satisfied with the finished product.  We stand behind our work – once the installation is done, we're still there for you.  We're only a phone call away – contact us for a free estimate today.