Concrete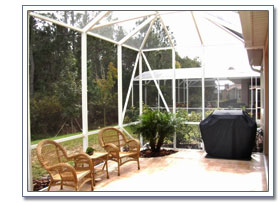 Are you thinking about adding a patio to your home?  Or maybe a carport to add additional space for that extra car sitting in the hot Florida sun? 
At Rob's K-Bear Aluminum, Inc., we are fully equipped to not only cover your project with a beautiful roof; we can also pour the concrete for the flooring you're going to need. 
Our qualified representatives can assist you with the details of choosing size, shape and even the thickness of the concrete. Why pay two or more separate contractors when you can leave all the details to us? With our company handling the whole project you can be assured that the details of your valuable addition to your home are taken care of handily from start to finish.
If you're looking for concrete work our company offers:
Qualified representatives to take you from start to finish
Over 30 years of experience
Ability to plan & carry out all aspects of construction including concrete
Flexibility to create custom work to your specifications
Here at Rob's K-Bear Aluminum, Inc., we have installed countless patios and carports since we started our business over fourteen years ago. We have the experience and dedication to details to ensure that your project is completed quickly, safely, and beautifully. Contact us today and let us make your dreams become reality.
---
Serving Volusia County including Daytona Beach, Daytona Beach Shores, Edgewater, Holly Hill, New Smyrna Beach, Oak Hill, Ormond Beach, Ponce Inlet, Port Orange, and South Daytona.
Florida State Certified License Number SCC056687