Seamless Gutters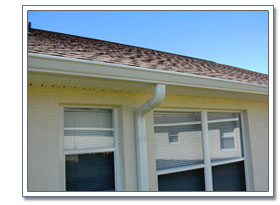 "What are seamless gutters and why do I need them? Won't just any old gutter do the trick?" Seamless Gutters are certainly the most popular gutters used and installed nationwide. That's why we use them!
"How do you figure out the lengths of the gutters?" No need to worry about that!
We install seamless gutters for the following reasons:
They are the most popular gutter in the country
They eliminate unsightly seams, reducing the possibility of leaks
They add to the beauty of your home
They never need painting
They're installed with hidden hangers
On the day of installation, a truck will arrive with the seamless gutter machine. The pieces will be measured and cut by the contractor and carefully fitted with strong, hidden hangers to your roof under the shingles, creating a clean and beautiful line. No ugly "nails" (spikes) or ferrules mar the beauty of the installation. We use 026/028 seamless gutters for a long lasting and durable product. In addition, we use 3x4 downspouts, ensuring the water goes down the spout instead of off your roof.
A service oriented company, Rob's K-Bear Aluminum, Inc., stands behind each and every installation. Your satisfaction is our priority! With over 30 years of experience in Florida, we pride ourselves on not just doing the job, but doing the job RIGHT. Contact us today for a free estimate.
---
Serving Volusia County including Daytona Beach, Daytona Beach Shores, Edgewater, Holly Hill, New Smyrna Beach, Oak Hill, Ormond Beach, Ponce Inlet, Port Orange, and South Daytona.
Florida State Certified License Number SCC056687